Regular price
$736.00 USD
Regular price
$1,800.00 USD
Sale price
$736.00 USD
Unit price
per
Sale
Sold out
Try it risk-free with money-back guarantee 
Share
Fumeclear® FC-350 Source Capture Fume Extractor Dual Station
 This unit is engineered to provide ventilation for two adjacent workstations. 
This unit can be operated as a free-standing portable unit or connect to an exhaust duct to vent outside (if required by local commercial building and mechanical code)
 Connection hoses can be equipped according to customer requirements
Applications and Features of this fume extractor
1. Mainly used in 3D printers, laser cutting, laser engraving and laser marking machines
2. The purification rate against 300nm pollutions is 99%.
3. Multilayer filtration and rapid purification
4. Noise reduction design, quiet operation.
5. Metal body structure, strong and durable.
6. High-quality alloy fan achieves great suction power.
7. DC brushless motor is stable in performance and long in service life.
8. With digital display and remote controller.
9. With alarm system, it will remind you to replace the filter in time.
Specifications
Model

FC350

Air inlet interface

Φ75mm *1 flange

Voltage

AC 110/220

Power

350W

Filter

5 layers

Negative Pressure

2600Pa

Filtering effect

0.3μm99.97%

Noise

 

<55dB

Flow

253 CFM

Dimensions(L*W*H)

400*310*610mm

Weight

29Kg
 Product Consumption (calculated according to 8 hours everyday)
1st Layer: 
Fire-proof protection net
Replacement period: Washable.
2nd Layer: 
Primary efficiency filtration cotton
Replacement period: 1-2 week
3rd Layer: 
Medium efficiency filtration cotton
Replacement period: 2-3 month
4-5th Layer:
High efficiency filtration cotton: 
Replacement period: 3-6 month
We can configure different filter element as you need.
 Filter Model & Replacement
Packing
Fireproof protection net * 1

Pre-filter * 5 365*175*25mm
Medium hepa filter * 1 365*175*55mm
Main carbon filter * 1 385*195*250mm
75mm * 1.4m black bamboo tube
Black silicone round cover * 1+Black silicone square cover * 1
Product Manual * 1
350W 3D Printed Fume Extractor * 1
One year warranty

7 days free returns

US UPS:2-5 days delivery
View full details
Frequently Asked Questions
SHIPPING & RETURNS

FREE SHIPPING on all orders worldwide!

Delivery within 2-5 working days

EASY & FREE RETURNS

We understand that buying a steel tongue drum can be a significant investment, that's why we offer a 7-day risk-free money-back guarantee, so you can try our drums without any fear of failure. In case you're not satisfied, return it within 7 days from the date, the item is received.

Just shoot us an email or give us a call and we'll send you a free-of-charge return label to ensure a hassle-free return.
How do I apply a coupon code?

Redeeming your Fumeclear discount is a breeze! Just apply the code at checkout. Please note that only one coupon can be used per order, and the coupon code cannot be combined with any other discounts or used for subscription orders.
Why Buy a Fume Extractor

Why Use a Fume Extractor:

Health and Safety: A fume extractor effectively removes harmful gases, smoke, and particles from the work environment, helping to protect employees from exposure to hazardous substances and ensuring health and safety.
Environmental Protection: A fume extractor helps reduce the pollution of harmful gases and particles to the surrounding environment, minimizing the company's environmental impact and complying with environmental regulations and standards.
Production Efficiency: A fume extractor keeps the work area clean, preventing the accumulation of hazardous materials, thereby increasing production efficiency and reducing interruptions during the production process.
Quality Control: A fume extractor contributes to maintaining a stable work environment, ensuring that product quality is not compromised by hazardous substances, and reducing the rate of defective products.
Regulatory Compliance: Many industries and regions have strict regulations on fume emissions. Using a fume extractor helps ensure compliance with regulations, avoiding fines and legal disputes.
Employee Comfort: A fume extractor can improve the work environment, reducing odors and discomfort, and enhancing employee comfort and job satisfaction.
Equipment Protection: A fume extractor prevents the accumulation of hazardous materials on production equipment, extending the equipment's lifespan and reducing maintenance and replacement costs.

In summary, using a fume extractor helps create a healthy, safe, environmentally friendly, and efficient work environment, positively impacting both the company's sustainable development and the well-being of its employees.
Why choose us ?

The Fumeclear® brand has a history of over 10 years, and we have always been committed to providing customers with high-quality smoke exhaust fans. During this period, we have been continuously pursuing excellence through innovation and improvement in product design and technology, ensuring that our smoke exhaust fans are at the forefront in terms of performance and quality.

Quality is the core value of our products. We firmly believe that only by using high-quality materials and advanced technology can we manufacture durable and high-performance smoke exhaust fans. Our products undergo rigorous quality control and testing to ensure their stable and reliable operation in various environments and applications.

To provide the best quality products, we keep a close eye on the latest developments in the industry and listen to customer feedback. Our team maintains close communication with customers, listening to their needs and opinions, and using them to improve and upgrade our product line.

Fumeclear smoke exhaust fans not only focus on performance and quality but also prioritize safety and environmental protection. Our product design and filtration systems aim to minimize the emission of harmful smoke and gases, ensuring a safe working environment while minimizing the impact on the environment.

Whether you are an individual hobbyist or an industrial user, Fumeclear has smoke exhaust solutions that meet your needs. Our range of smoke exhaust fans covers various specifications and models, providing you with more choices.

In the future, Fumeclear will continue to work tirelessly to provide customers with excellent products and services. We appreciate the trust and support of our customers over the years, and we will continue to uphold the principles of putting quality first and putting customers first, continuously striving for excellence, and creating greater value for our customers.

 
Fumeclear®HEPAfinity

HEPAfinity, short for High-Efficiency Particulate Air Affinity, is an upgrade and enhancement of the traditional HEPA (High-Efficiency Particulate Air) filtration technology. The HEPA technology was introduced as early as the 1950s, utilizing high-efficiency fiber materials to capture and filter tiny particles from the air, such as dust, pollen, bacteria, and viruses. However, with the continuous advancement of technology and the ongoing pursuit of air purification efficiency, HEPAfinity technology has emerged.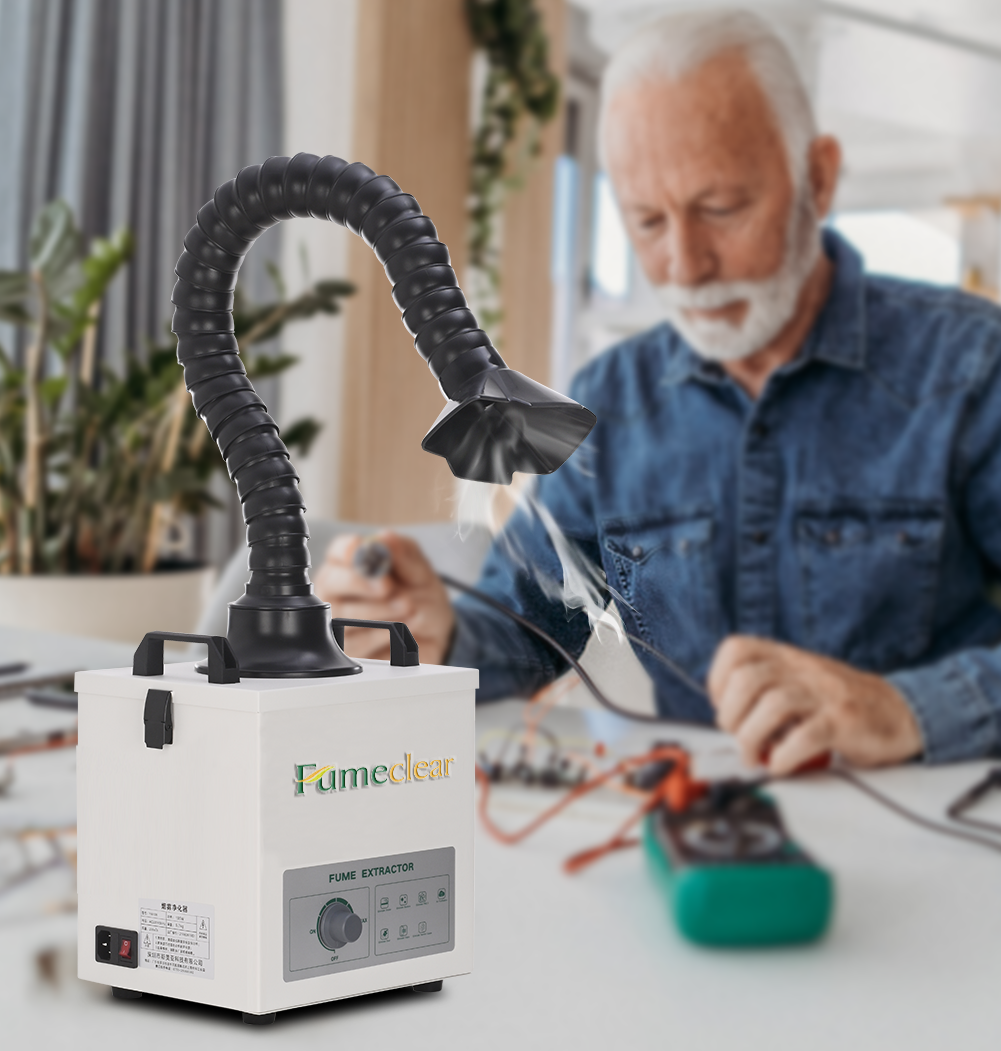 Fumeclear
Everyone is only concerned about your success, but we care about your physical health
About Us